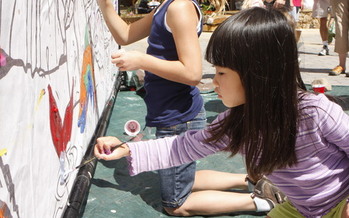 COPPER MOUNTAIN, Colo. - Arts programs are being cut from schools in Colorado and around the Southwest, with many pupils having art as little as one hour a week, if at all. That's prompting parents to look to private entities to supplement their children's art education.

Kristen de la Durantaye and her husband offer art classes for schoolchildren through their company, Silver Tree Visual Arts, and at events like Copper Country, taking place Labor Day Weekend at Copper Mountain. She takes the view that reducing children's exposure to arts can affect their success in life, regardless of the career they choose.

"Taking arts out of schools is a huge deal in the sense of kids aren't free thinkers anymore, and what we're going to see is a lack of leaders, because we're not going to have those creative thinkers and the outside-of-the-box thinkers," she declared.

Chalk artist Eric Matelski will also be at Copper Country, exhibiting his work and working with kids to inspire their creativity and imagination. He said working with tangible media helps kids master digital arts that are growing in popularity.

"A better understanding comes from knowing a more physical art, so when you have that opportunity to have the hands-on and know how it works, it almost gives you a better understanding of how you can create in a digital realm as well," Matelski said.

De la Durantaye finds that events like Copper Country are a great way to educate parents about the importance of arts education and even discover an unknown interest their children have in art.

"By doing an event like this, parents are seeing, 'Oh, there's actually a place I can take my kid where they're going to be cultivated and they're actually going to learn how to develop their skills,'" she said.

At Copper County, de la Durantaye and her team will be offering sessions to encourage children to explore different cultures and express feelings. The fest also includes an arts festival and free live music with performers including Kenny Rogers and Michael McDonald. More information is available at CopperCountryFest.com.